If you live in the Grandview Hills, River Place, Canyon Creek, or Cypress Creek areas (or even further afield) of Austin, Texas, and are looking for a qualified professional to take care of your home, look no further.  Here is a list of common handyman services I provide regularly.  If you do not see your job listed, please give me a call.  Chances are good that I can help you with your project.
NEW: MIG and flux core welding - fences, gates, trailer repair, sculptures/lawn art

TV Antenna mounting - Drop that pricey cable box and get a bunch of local over the air channels for free

Tiling and backsplashes

TV wall mount/installation - Add a cable organizer to keep power and cables hidden inside wall

Landscape Lighting and minor landscaping - ​Landscape lights add  to your resale value

Hang Chandeliers/Sconces, etc. - 18 foot ceilings, no problem

Replace faucets
Minor masonry work

Picture and art hanging - no picture too big or too small
Fence and gate repair
Honey-do lists

Carpentry and furniture building - See the gallery
IKEA furniture assembly
Minor painting
Door repair - Install and repair interior doors, repair rot on exterior doors
Attic ladders - Replace or install new

Deck repair
Gutter cleaning/repair
Drywall repair - small holes to whole walls
Doorknob installation
Re-caulking bathtubs, showers, sinks
Change light bulbs

Pressure washing



Install shelving

Training/Helping hand - Want to learn how to do it yourself? I'll teach you.
And much more!
Feel free to call me so we can discuss the details of your job.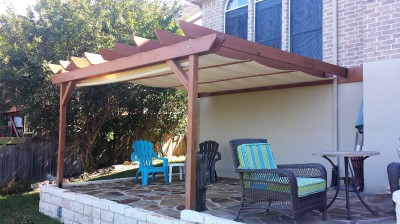 Here are some examples of my larger work: I built this pergola with a sunshade roof. Key points are how you mount the ledger board and the post bases.
I fabricated and installed this tempered glass fire pit surround to help reduce wind on flames and provide  safety.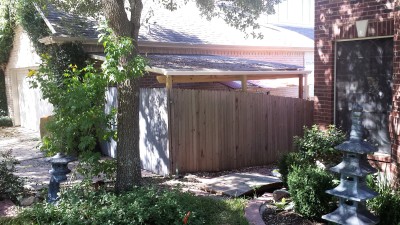 I constructed a covered side patio lean-to with shingled roof and extended the fence and gate. I also laid paver bricks with permeable polymeric sand outside the gate.

I can also provide consultation on sustainability modifications such as rain water harvesting, rain gardens, xeriscaping, drip irrigation, and other landscaping improvements. For many larger landscaping or construction and remodeling jobs, a contractor who specializes in those areas will likely be able to provide a more cost effective bid, but I can help you develop ideas, understand limitations, and review bids.

Four Points Handyman will repair, free of charge, defects in workmanship for one (1) year.

Warranty is for labor only, and does not apply to materials or material failure, manufacturers recommended use or customer negligence, normal wear and
tear, acts of God, or a change in the Customer's mind. Warranty becomes effective when the project is completed.
Warranty work does not extend the original warranty period. Incomplete payment, for any reason, voids the warranty
.